Artificial Intelligence in the Workplace. How Robots Will Change the Way You Work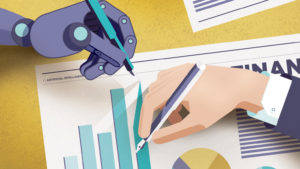 What was a part of the imagination of some of the most famous fiction writers, artificial intelligence now is a part of our everyday life. We're still years away from having robots working near your desk but AI has already had a profound impact in more subtle ways. Weather forecasts, email spam filtering, search predictions and voice recognition assistants such as Siri and Cortana, are some of the examples. But what kind of job will be taken away or is already taken by robots? If you work in an office, drive a taxi or lay bricks stop for a minute and think about whether a robot can do your job better?
Unfortunately, the answer is yes. The question of whether robots can replace humans in a number of specialities are now gone beyond the boundaries of academic dispute. Boston Consulting Group predicts that by 2025 a quarter of workers will be replaced by computer programs or robots. Big improvements in the cost and performance of robotics systems will be the catalysts. Researchers from Oxford University believe that up to 35% of workers in the UK can be replaced with automated technical systems in the next 20 years.
In several industries, the cost and capabilities of advanced robots have already launched rapid adoption. Office workers, performing repetitive functions, such as writing reports creating spreadsheet tables can be easily replaced by robots. We compiled a list of jobs that are already taken by machines and professions that are among those under threat.
Workers in factories
China has already created robots that may soon take the jobs of those who created them. More than 100 industrial robots have been installed at a zero-labor factory that is being built in Dongguan, a major manufacturing base in Guangdong province. Chen Qixing, chairman of the board of Guangdong Everwin Precision Technology, said 1,000 robots will be used in the first phase of the production facility. "The use of industrial robots will help the company to reduce the number of front-line workers by at least 90 percent," Chen said.
Apple supplier Foxconn Technology has replaced 60,000 human workers with robots in a single factory, according to a report in the South China Morning Post. "Across all of our facilities today, we are applying robotics engineering and other innovative manufacturing technologies to replace repetitive tasks previously done by employees," Foxconn said.
However, it seems to be just the beginning. The ambitions of China in robotics extends much further. Since September 2014, 505 factories across Dongguan, in the Guangdong province, have invested 4.2bn yuan (£430m) in robots, aiming to replace thousands of workers.
Journalists
If you have recently read a report on corporate profits in Forbes or sports article in Associated Press, you may have dealt with robot creativity. One piece of software, Wordsmith, produces thousands of earnings reports every quarter, while the video creation platform, Wochit, means that hundreds of news videos can be generated and uploaded to news websites and social media.
"With automation, we now follow and produce quarterly earnings reports for 4,000 companies," says Justin Myers from Associated Press, the world's first and thus far only automation editor. "Previously we covered 400."
"A machine will win a Pulitzer one day," predicts Kris Hammond from Narrative Science, a company that specialises in "natural language generation". Recent advances mean that AI can now write readable, flowing copy, and churn out repetitive articles faster than the most caffeinated journalists.
Doctors
The robot can hardly boast a courteous manner with respect to the patient, but artificial intelligence is operating large amounts of data, and therefore can find possible methods of treatment of various diseases. Watson supercomputer is now cooperating with a dozen hospitals in the US, offering treatment options for cancer patients. Using a special software developed by the IBM, the computer also helps detect skin cancer at an early stage.
Over five billion people worldwide cannot access safe surgery, according to the Lancet Commission. To overcome this, and save seventeen million lives every year, we need to train 2.2 million extra surgeons. Guy's and St Thomas', a hospital in central London, carries out the most robotic surgery in the UK, around 400 cases a year. The majority are prostate operations, but also include bladder and kidney surgery. Speed is a key factor in the success of such operations, and the robots can sew blood vessels that connect the donor kidney much faster than humans.
At the same time, a participation of robots in operations doesn't guarantee success. Machines make mistakes. Recent studies have shown that during operations involving machines in the United States, at least 144 have died over the last 10 years.
Lawyers
One of the American biggest law firms has become the first to publicly announce that it has "hired" a robot lawyer to assist with bankruptcy cases. The robot, called ROSS, has been marketed as "the world's first artificially intelligent attorney." ROSS has joined the ranks of law firm BakerHostetler, which employs about 50 human lawyers just in its bankruptcy practice. The AI machine, powered by IBM's Watson technology, will serve as a legal researcher for the firm. It will be responsible for sifting through thousands of legal documents to bolster the firm's cases. These legal researcher jobs are typically filled by fresh-out-of-school lawyers early on in their careers.
In recent years, there has been a boom in legal assistance tech start-ups, which use data-mining technology and publicly available legal documents to create powerful legal bots. There's software like Legal by Lex Machina which mines public court documents using natural language processing to help predict how a judge will rule in a certain type of case. Another startup called CaseText uses crowdsourcing to analyse thousands of state and federal legal cases.
Last year, an 18-year old British coder developed a parking ticket bot called DoNotPay that quickly handles ticket appeals through a Q&A chat. The bot, which is available for free online, has successfully appealed some $3 million worth of tickets, saving drivers the cost of hiring a lawyer for the appeal, which can run between $400 and $900. The DoNotPay robot can also assist with payment-protection insurance claims.
Accountants and bookkeepers
With more people flocking to programs like TurboTax and Freshbooks, the need for accountants is diminished. That's not to say a quality accountant isn't worth his/her weight in gold, but the fact remains more people and businesses are automating accounting software and switching to do-it-yourself methods whenever possible to save money.
As part of its Intelligent Machines week, the BBC created a widget where you can calculate your profession's likelihood of being automated. According to this calculator, chartered accountants run a 95% risk of being subsumed by the machine. Bookkeepers are 97% likely to be replaced; tax experts at 95%.
Chefs
A kitchen full of robot cooks? Programming your orders from your phone instead of giving them to a waiter or waitress? These robotic hands – consisting of 20 motors, 24 joints, and 129 sensors – can mimic the movements of the human hand and do nearly everything a real chef can do. Once the technologically is perfected and scaled, kitchens could consist of pairs of robotic hands slicing and dicing the pre-programmed items on the menu for fully automated cooking. It's not here yet, but it's not nearly as far off as people think.
Cashiers
This one hardly needs an explanation, as self-checkout has been around for years. But even in addition to the self-checkout lanes, many stores now allow customers to carry around scanners. When they pick items up off the shelves, the items are scanned and logged. When done shopping, the customer simply scans her entire stored list of items at checkout, the total is given, the customer pays, and that's it.
Some restaurants have started experimenting with human-like robots instead of human cashiers, allowing consumers to pay for their meals without interacting with another person. Although many restaurants have allowed digital ordering, either online, by kiosk or on tablets at the table, the practice of using humanoid, or human-like robots, is still in its earliest stages, and it's primarily happening in Asia so far.
SoftBank's robot is named Pepper. It has a face and can even respond to human customers with some emotional intelligence, said John Sheldon, the senior vice president of innovation management at MasterCard Labs. For example, if a customer seems more tentative to interact with a robot, Pepper will be more reserved whereas if a customer is more energetic, Pepper will be, too, Sheldon said. It looks like an alien, with eyes and a touchscreen on its chest, and it's the size of a small child. Pizza Hut will only use a few robots at several Asia-based restaurants, starting later in 2016.
Telemarketers
No surprises here in that telemarketing jobs are the most likely — 99% to be exact — are the most likely to go the way of the dodo. With the amount of robo calls and the extent to which automated systems are prevalent, it's actually becoming a rare thing to get spam calls from a real person.
Artificial intelligence is already at a stage where it will have a considerable impact on the shape of the global workforce. Statistical data show that AI is fully embedded in our everyday life, including workplace. Some professions will be completely replaced by machines, so mankind should think about optimization and take care of those people who will lose their jobs because of AI.
Author: AI.Business
---
If you like our articles, please subscribe to our monthly newsletter: