How drones are changing construction industry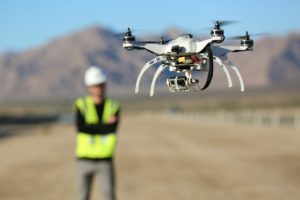 Previously drones have been used exclusively as a tool for photo and video shooting from the air, but now there are models that are adapted for use in the construction sites and have a significantly greater number of useful features. New startups, that are building special construction drones, appear, as well as specialised research projects conducted. For example, scientists from the University of Illinois developed construction control system with the help of unmanned aerial vehicles. All of this suggests that potential toy is in a process of transformation to a useful tool that will change construction industry.
Drones serve builders for the long time. The Washington Post has named construction sites "orchestras without conductors" if the action of drones is not coordinated. How drone will be useful on a construction site? For example, builders arrived at a site, but the work territory is not ready. They lose time while waiting for the completion of preparatory work, which means a loss for the developer. In which condition construction site is, are safety requirements met and garbage area cleaned – all these things drone promptly monitors and reports to the drone coordinator.
Autodesk envisions drones empowering the leaders on construction sites with real-time information, leading to projects that are finished faster at a lower cost. The company, which makes software for 3D design and engineering, has invested in drone startup Skycatch, which sees a huge opportunity in data from construction sites. With automated drones, a contractor could analyze progress on a construction site far quicker than if a human was tracking progress.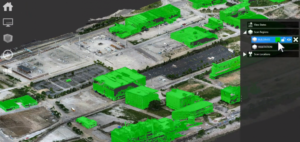 In Summer 2015 construction workers building the stadium for the Sacramento Kings in California had a boss watching over them in a very literal way. Their work was being monitored by drones. Drones periodically flown over the construction site and take videos that are converted into 3D images, which can then be compared to construction plans to highlight areas of the structure that are falling behind schedule, MIT Technology review reported.
The system pre-filled with all of the key points of the object with reference to specific dates, so the program allowed to clearly see what part of the construction site was behind the schedule, to find out and eliminate the causes of slowdown. The main reason for a slowdown in the construction of large facilities are mistakes in the strategic planning, coordination and communication and this system allowed to perform automatic monitoring of works on the construction site with the help of drones.
The Japanese company Komatsu, which manufactures equipment for the construction, started production of robotic machines that can operate according to a predetermined algorithm, without human intervention (only under the supervision of a remote operator). Japanese signed agreement with American company Skycatch, specializing in construction of drones. Drones will be mapping the terrain chosen for construction. Pictures taken with the camera will be converted into a three-dimensional map, on which the data will be transferred, where and how much soil construction machine should move, which parts should be intact and how the next stage of construction should look like.
In the meantime, scientists are moving from the realized projects to promising areas. UK's Engineering and Physical Sciences Research Council provided a grant in the amount of £2.3 million for the development of drones, building temporary housing in areas of natural disasters. Drones will build houses directly from the air. Manufacturer of vacuum cleaners Dyson (UK), engineering consulting bureau BuroHappold (UK) and 3D-printing company Ultimaker (Denmark) are all working on developing drones for disaster zones.
Perhaps in the near future drones will be able to carry a sufficient amount of construction materials, because the carrying capacity of modern multicopter lies in the range of 0.5 – 30 kg. Although Israel project Meteor Aerospace announced drone, which will be able to carry up to 150 kg.
In the construction site of the future, drones would regularly whirl overhead, constantly taking photos. Software in the cloud would compare volumes, to see how much dirt was moved, if a structured was built or if erosion is a problem. Regular reports would be emailed to leaders on site, keeping them abreast of progress.
Author: AI.Business
---
If you like our articles, please subscribe to our monthly newsletter: